Guitar Chords Central
Welcome to Guitar Chords Central. You have just landed on a one stop chord resource for all levels of players. In guitar playing chords help drive the melody of the song. Whether you play acoustic or electric, chords are a necessity.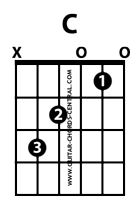 This site is designed to help you, the player… You can check out guitar chord charts, beginner chord diagrams, power chords and some music theory. We even will have a few songs, lessons, and even progressions. While not all these items are yet on the site. (I do have a day job) I am excited to update the site on a regular basis so you have all the tools you need to become a better musician and guitar player.
Check out what will be a vast archive of chord charts and diagrams containing major, minor, 7th, diminished, and augmented chords. These chord charts are the best on the web. What makes these different? Websites with make your own charts or chord finder programs are computer generated. While they may be smarter than me they don't know how to play guitar and in relation they don't know the proper fingering of the chords. That leaves many players guessing and moving around till it feels right. Wasting time is not an option and playing a chord incorrectly can hurt progress in the future.
I hope you find this site useful. Drop an email to me if you have any comments or suggestions and I'll personally get back to you ASAP. Enjoy and welcome to guitar-chords-central.com
Your resource for a printable guitar chords chart
Learn how to read chord diagrams and play from beginner guitar chord charts
Learn how to play the basic guitar chords on guitar.
All about power chords and a printable chart
Learn what acoustic guitar chords sound great with an easy to read printable chart.
Your resource for understanding guitar chord theory and construction
Would you like to share your knowledge about guitar chords? Great, find out how you can submit your story or tip here.